On September 16, 2017, Albany Public Library, the Albany Public Library Foundation and the Albany Bicycle Coalition present Bike the Branches–an all-ages bike ride from the Delaware Branch to Pine Hills Branch in celebration of the launch of the  CDPHP Cycle! bike share program!
10:00 am | Adult Warm-Up Ride 
Starts at Arbor Hill/West Hill Branch (148 Henry Johnson Blvd)
Grownups who want a longer ride can meet up at the Arbor Hill Branch and then continue on to the Delaware Branch.
10:00-11:00 am | Prepare for All-Ages Ride
Meet at the Delaware Branch (331 Delaware Ave)
Come see the cool Cycle! bike-share bicycles and use our Bike Fixit Station to make sure your bike is in tip-top shape for the ride. If you don't have a bicycle, you can rent one from the pop-up Cycle! station.
11:00 am | All-Ages Bike Ride to the Branches
Starts at the Delaware Branch (331 Delaware Ave)
Families and bike riders of all ages can meet up at the Delaware Branch with their bikes and helmets. We'll ride over to the Bach Branch (455 New Scotland Ave) as a group and stop for a quick water break. We'll finish our ride at the Pine Hills Branch (517 Western Ave). where you'll be able to check out a pop-up Cycle! station and the permanent Bike Fixit Station.
12:00pm – 12:30pm | Cycle! Celebration!
Pine Hills Branch Parking Lot
A short speakers program in celebration of Cycle! and cycling in Albany, including a demonstration of the Bike Repair Stands by Albany Bike Rescue.
12:45 – 1:15 | Return Lap to Delaware
Starts at the Pine Hills Branch (517 Western Ave)
If you live near the Delaware Branch or parked your car there, the Albany Bicycle Coalition will lead a return lap to the Delaware Branch from Pine Hills, leaving at 12:45pm. (The folks at Cycle! hope that, whether going home, shopping, or to band practice, you will just keep riding your Cycle! as you go on with your day!) 

No bike? Cycle! will have a pop-up bike station at the Delaware branch (10am – 11am) on the day of the event. You can register for Cycle! that day in person, or visit cdphpcycle.com to register online.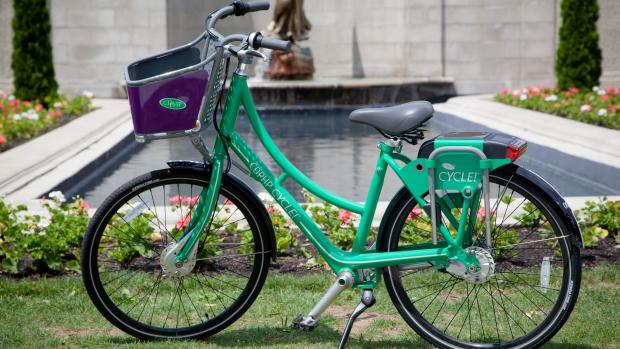 APL Bike the Branches is organized by the Albany Public Library, Albany Public Library Foundation, CDPHP Cycle! and Albany Bicycle Coalition.
APL Bike the Branches is part of the Outside the Lines celebration: Outside the Lines events are taking place across the country from September 10-16, to demonstrate how libraries are dynamic centers for engagement helping local communities. #GetOTL